Hedge fund manager Kyle Bass, who has been betting against the yuan and warning of a collapse in China's banking system, said the nation will one day come to regret handing Xi Jinping more power than any leader in decades.
"Today Xi is celebrated in media reports, but when future historians look back, he will be blamed for recklessly building the Chinese economy on a foundation of sand," Bass, founder of Hayman Capital Management, said in an email Wednesday. "Xi desperately seeks credibility, but true developed economies do not impose severe capital controls or move short-term rates hundreds of basis points overnight in attempts to manipulate their own currency."
At a twice-a-decade congress in Beijing, China's ruling Communist Party enshrined President Xi's policies alongside those of former leaders Mao Zedong and Deng Xiaoping. Xi, who has sought to turn China into a global economic power and was the architect of the Belt-and-Road infrastructure drive, had his theories on "socialism with Chinese characteristics for a new era" included in China's guiding charter.
Yet, some foreign investors have been less than impressed as China's currency has remained sheltered behind exchange restrictions and curbs on foreign investment. They've also pointed to China's ever-growing pile of debt, with borrowing swelling to 260 percent of gross domestic product at the end of 2016, Bloomberg Intelligence data show. Moody's Investors Service and S&P Global Ratings both downgraded the nation this year on risks from soaring debt.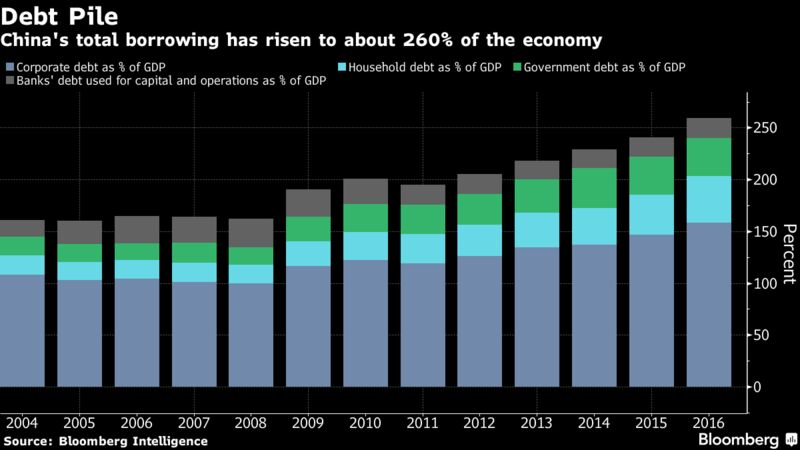 Bass, who has called for a 30 percent drop in the Chinese currency, said in an interview earlier this month that he expects the government to relax its grasp on the exchange rate after the National Party Congress. He said he believed once Xi consolidates power, he'll allow natural economic forces to play out within the banking system.
"China remains an emerging backwater when it comes to global currency settlements," he said Wednesday.
Subprime Bets
Bass, who made a fortune betting against U.S. subprime mortgages, said in early 2016 that losses in Chinese banks could be four times bigger than those suffered by American lenders during the global financial crisis. He has said that crucial figures, like the share of non-performing loans, have been understated.
"Recklessly growing a banking system in pursuit of global economic growth and respect will cause severe financial instability in the years to come," he said on Wednesday. "The dangerous $40 trillion credit experiment with Chinese characteristics will run its course."
Bass has stuck to his pessimistic views on China even as other investors have reversed their bearish wagers after predictions of a devaluation in the yuan failed to materialized. Mark Yusko, chief investment officer of Morgan Creek Capital Management, said last month that China bears have underestimated the nation's unique ability to control its market.
Read more: http://www.bloomberg.com/