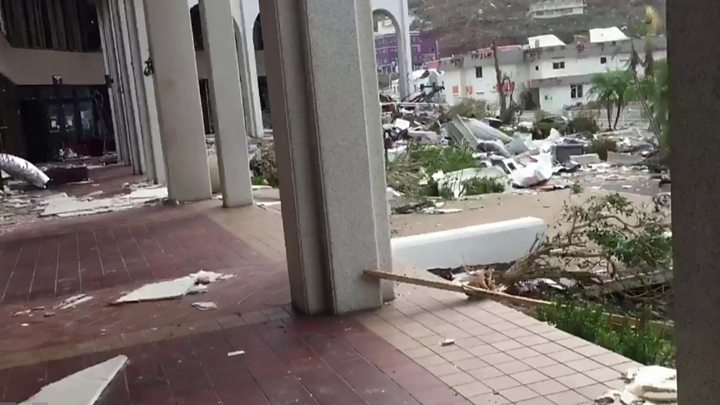 The UK is stepping up its relief effort in response to Hurricane Irma, with the first of three RAF aid flights on its way to the Caribbean.
Troops from a Royal Navy ship have also begun delivering emergency aid to British overseas territory islands hit by the disaster.
Houses have been reduced to rubble in the British Virgin islands, where a state of emergency has been declared.
The UK government has been accused of responding too slowly to the storm.
The British Virgin Islands' governor, Gus Jaspert, has asked the UK for help amid reports of widespread devastation, with casualties and fatalities reported.
Mr Jaspert has warned that another storm, Hurricane Jose could reach the islands at the weekend.
Sharon Flax-Brutus, director of tourism for the British Virgin Islands (BVI), said the damage was difficult to assess because communications were down, but that "many homes are without roofs, or have been diminished to merely foundations".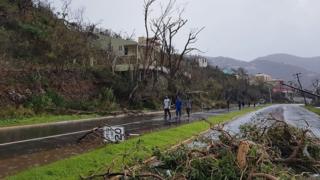 Simon Cross, who moved to the BVI two years ago, said the first warning he had of the hurricane hitting his building was when a skylight was blown off the roof.
"The wind was scary enough for us to all end up huddling in an adjoining bathroom which had a small window protected by metal shutters.
"The wind was like nothing I've ever known in my life. It was crazy."
Briton Emily Killhoury, who lives on Tortola in the BVI with her husband Michael and their two children, aged nine and 10, told the BBC her family bunkered down in a closet when the storm hit.
"Our downstairs doors suddenly blew out, which was terrifying. We just stayed hiding," she said.
"We eventually emerged at about 7pm to see total devastation. Everybody is shocked, but trying to be practical."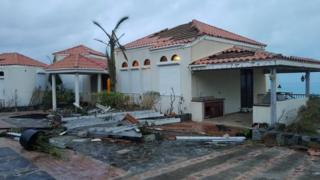 Sir Richard Branson, who was at his private retreat of Necker Island in the BVI, said his island and the whole area had been "completely and utterly devastated".
In a blog, Sir Richard said his team were safe and well after taking shelter in his concrete wine cellar, but added: "I've never seen anything like this hurricane.
"We are still assessing the damage, but whole houses and trees have disappeared."
Irma passed over the British overseas territories of Anguilla, Montserrat and the British Virgin Islands on Wednesday night – and went on to batter another, the Turks and Caicos islands further north, on Thursday evening.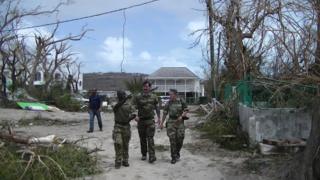 The UK has almost tripled the relief fund for British overseas territories to £32m, amid criticism of its response.
Prime Minister Theresa May has been chairing a meeting of the government's emergency response Cobra committee.
Speaking ahead of the meeting, she said there would be two phases of the UK's relief operation – the immediate response, and longer term reconstruction.
She said the hurricane had been "absolutely devastating".
"We want to do everything we can and will do everything we can to support people, but also to help them rebuild."
British overseas territories are self-governing but rely on the UK for protection from natural disasters.
Former UN head of humanitarian relief Baroness Amos said on Thursday that it was felt the UK "did not respond" quickly enough to the disaster.
But Mrs May insisted that the government had responded "swiftly".
What has happened in British territories?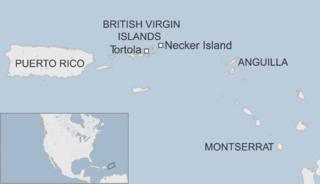 Anguilla: Hit by the full blast of the hurricane on Wednesday. At least one death reported.
British Virgin Islands: Reports of casualties and fatalities and extensive damage. Expected to require extensive humanitarian assistance. In a message the people of the BVI, governor Gus Jaspert said: "I come to you with a heavy heart after experiencing and observing the extent of devastation caused by Hurricane Irma." Communications are difficult.
Montserrat: "Swiped" by Irma but suffered less serious damage.
Turks and Caicos: Battered by the hurricane on Thursday night, with roofs ripped off, streets flooded, utility poles snapped and a widespread black-out on the main island of Grand Turk.
What is the UK doing?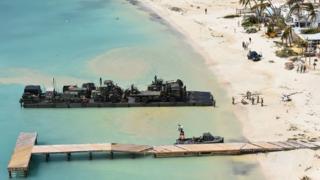 Humanitarian workers with 200 shelter kits and the Royal Navy ship, RFA Mounts Bay, were sent to the area before the hurricane struck.
The military vessel arrived in Anguilla on Thursday and delivered six tonnes of emergency aid, with personnel there clearing roads and helping to restore power.
The ship is now travelling to the British Virgin Islands – 90 miles to the west – to help with disaster relief efforts there.
HMS Ocean is also being sent from the Mediterranean but is not expected to arrive for another two weeks.
The first British military flight to join the relief effort has left RAF Brize Norton, carrying about 50 troops – including engineers, marines and medics, as well as rations and water. Other transport aircraft are expected to follow with helicopters on board.
At the scene: 'Foolish to rush in'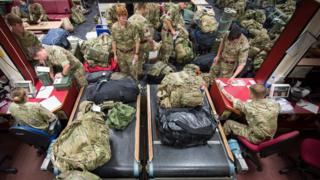 By Duncan Kennedy, BBC South of England correspondent at RAF Brize Norton
Loading aid is a complicated operation and the first of the RAF flights left Brize Norton at lunchtime.
It has dozens of Royal Marines onboard, together with water supplies and shelter equipment.
The RAF base commander here has denied the British have been slow to get going. He says it would be foolish to rush into the region before knowing exactly what is needed.
There will be more flights from Brize later, with a total of about 300 military personnel heading to the Caribbean.
What is the advice for travellers?
Thousands of British tourists are believed to be holidaying in the Caribbean, the travel association Abta said.
Britons in the region have been urged to follow evacuation orders, while states of emergency have been declared in Puerto Rico, Cuba and Florida, amid fears Miami could be struck directly by the hurricane.
Holiday firms are monitoring the situation and some have cancelled flights or offered to amend bookings for those due to travel to affected areas in the coming days.
The cruise company Carnival has cancelled four cruises bound for the Caribbean that were due to depart over the next few days – and warned that others may be cut short.
The Foreign Office urges people planning to go to the areas to follow the advice from the local authorities, including any evacuation orders, and check its official travel guidance before travelling.
It has set up a hotline for people affected by the disaster and for people whose loved ones may be affected on 020 7008 0000.
---
Do you have family members living in one of the British Overseas Territories affected by the hurricane? Have you been in contact with them? Share your experiences by emailing haveyoursay@bbc.co.uk.
Please include a contact number if you are willing to speak to a BBC journalist. You can also contact us in the following ways:
Read more: http://www.bbc.com/news/uk