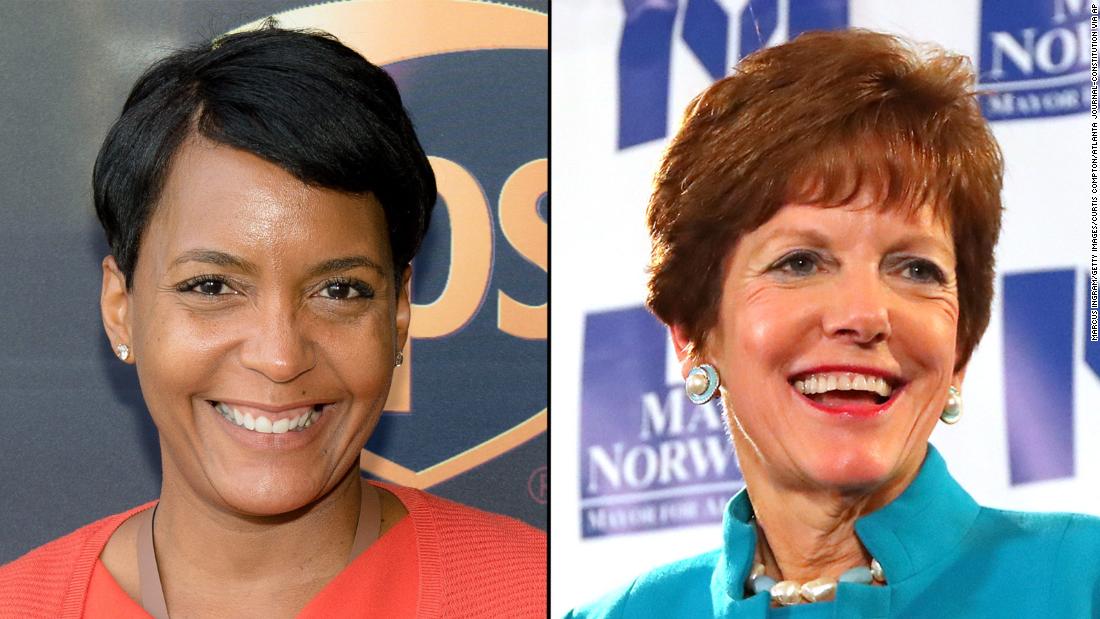 Washington (CNN)Results from Atlanta's mayoral race will be recounted on Saturday after voters delivered a nearly split decision Tuesday night.
April Majors, a spokeswoman for Fulton County, told CNN Wednesday that the results have to be certified before the recount can take place.
Mary Norwood called for a recount minutes into Wednesday morning as Keisha Lance Bottoms celebrated the result. Norwood cited an unofficial count in remarks before her supporters, and said while she was trailing her opponent Bottoms, she was waiting for further updates on the vote total later in the week.
"It's not over yet," Norwood said.
Bottoms, meanwhile, delivered a celebratory speech alongside sitting Mayor Kasim Reed, who backed her bid.
Bottoms, a Democrat, squared off against Norwood, an independent, in the nonpartisan runoff to succeed Reed, who is term limited from seeking re-election.
Acknowledging this history, Norwood said, "I've done this before."
A Norwood victory would mean Atlanta — a gentrifying city where the African American share of the population remains a majority but has gone down over the years — would have its first white mayor in more than 40 years.
Georgia utilizes a majority rule with a runoff voting system, which means that if no candidate secures more than 50% of the vote in the general election, a final race between the top two candidates decides the winner.
Bottoms, meanwhile, sought to cast Norwood as a Republican hiding behind the guise of her independent status.The city of Atlanta is a Democratic stronghold in a state that is otherwise largely Republican, and the city's government remains the only major Democratic power center in the state's political system, which is dominated by Republican officeholders.
Fort, however, declined to endorse one of the two remaining contenders and told his supporters to vote their consciences.
Read more: http://edition.cnn.com/